Sunday, July 17th in Les Baux-de-Provence
from 6:30 pm Art contemporary journey in the village :
Esplanade Charles de Gaulle ; Hôtel de Manville ; Post Tenebras Lux ; Jardin Prince Rainier de Monaco ; La Citerne ; Maison du Connétable with the artists : Régine Chopinot ; n+n Corsino ; Gérard Fromanger ; Bilal Hamdad ; Erika Harrsch ; Peter William Holden ; Caleb Krivoshey ; Mihael Milunovic ; Julien Bachelet ; Marc Nucera et François Manceaux ; Ugo Schiavi ; Michèle Sylvander ; Marc Turlan ; Igor Ustinov.
from 8:30pm, in Carrières de Lumières :
a choreography of Régine Chopinot, performed by Simone Rizzo and John Bateman with the percussionist Escalante Curro Vargas
Monday, July 18th, in Les Baux-de-Provence
from 11am, at Oustau de Baumanière artwork presentation of Igor Ustinov and Jacques Salles.
in Saint-Rémy-de-Provence
from 6:30pm, Chapelle Notre-Dame de Pitié
Discussions hosted by Ariel Kyrou with Mounir Fatmi and Gérard Fromanger and the participation of everyone.
Artworks of Emmanuelle Antille ; mounir fatmi ; Gérard Fromanger ; Douce Hollebecq ; Émilie Pitoiset.
Thursday, July 21th, in Paradou
from 7pm, Place de la Mairie
Action/photo – part 1 – of Daniel Aulagnier
Artworks of Michel Batlle ; Axel Brun ; Samuel D'Ippolito.
Friday, July 22th in Tarascon
from 7pm, Couvent des Ursulines
Videos presentation Grimanesa Amorós ; Yoann Crépin and sculptures presentation of Zumloh.
July 28th, Thursday in Saint-Etienne-du-Grès
from 8pm, Coopérative Alpilles Céréales
installation of Jérôme Cavalière ;
from 8:30 pm, Bernard Pourrière's performance with the singer Colette Colomb
this evening will finish around a buffet lunch in Silo and prize draw of « Amis du Festival ».
After a-part
August 26th, Friday in Baux de Provence
from 11:30 am, Mas de la Dame
Screnning video of Nucera, à fleur de bois, made from François Manceaux; pre-dinner drink to toast with ORLAN glass (limited edition a-part), Ceci est mon corps, ceci est mon logiciel with Marc Nucera.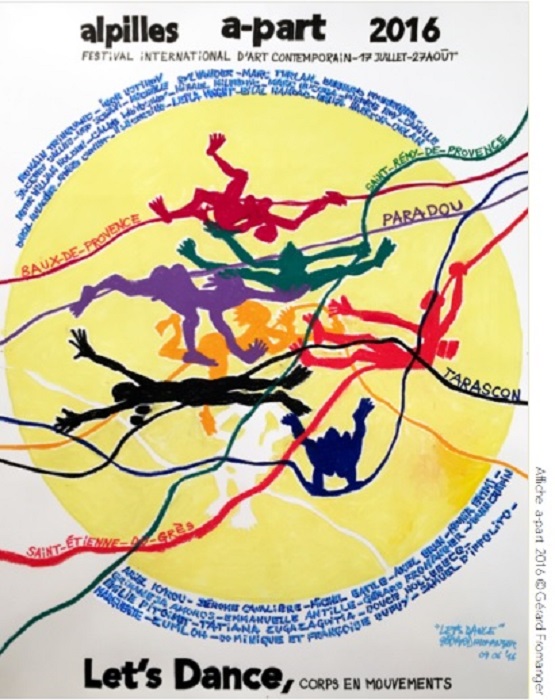 Thursday a-part in Les Baux-de-Provence
Jardin Prince Rainier de Monaco
Thursday 4th, August from 7pm: simultaneous interventions from Pierre Roy-Camille and Romain Trinquand
Cour de Porcelet
Thursday 11th, August from 7pm: Entre Palabras, a choreography from Tatiana Zugazagoitia with dancer Oscar Sánchez.
Thursday 18th, August from 7pm : action photo -part 2 – Daniel Aulagnier
In Carrières de Lumières
Thursday 25th at 8 o'clock pm: Les Sans Pattes, Robert Combas & Lucas Mancione for a closing concert
at 9:30pm : artwork screening of Robert Combas and L'écorchée d'ORLAN.